This holiday season, there are a number of ways you can give back to the community. Here are a few great local organizations where you can donate or volunteer.
Toys for Tots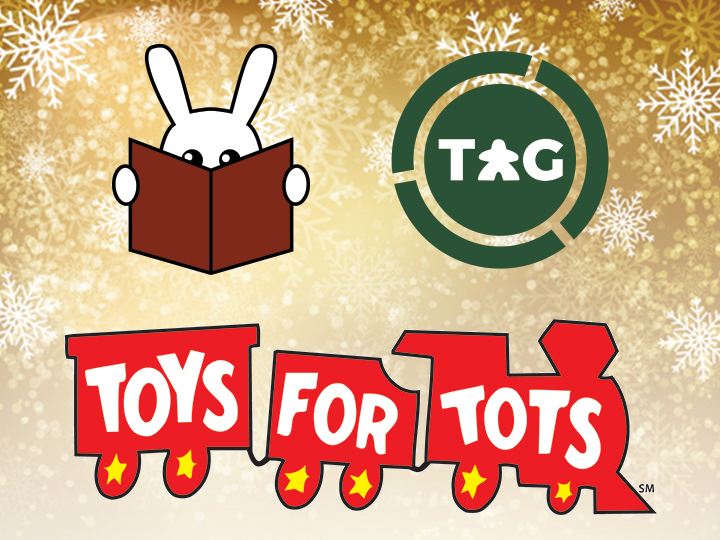 Adventures Underground and Tri-City Area Gaming are teaming up to collect toys and games for Toys for Tots.
During the first two weeks of December, bring your new, unwrapped gifts to Adventures Underground at 1391 George Washington Way between 10:00–9:00.
Toys and other gifts should be appropriate for children up to age 16. Toys for Tots will not accept toys that look like weapons, or any gifts that are perishable (containing candy or other edibles, for example).
If you don't have any toys or games to donate, you can also volunteer or donate directly to the Toys for Tots organization. You can even earmark your donation so that it goes to the local campaign here in the Tri-Cities.
For more information, call (541) 809-1712 or email toysfortots.tricities@gmail.com.
"We need donations of food year-round, since we supply food to our partner food banks and meal programs in the area," says Jean Tucker of the 2nd Harvest Pasco distribution center.
"We also need volunteers year-round to help us sort and pack food into smaller boxes for area food banks. It's fun and very rewarding!"
Volunteering usually takes about two to three hours, with a scheduled break.
The Richland Fire Department on George Washington Way is a year-round donation spot as well as at the Pasco distribution center at 5825 Burlington Loop, open Monday-Friday from 8:00–3:30.
You can also sign up to volunteer for 2nd Harvest or make a donation to help 2nd Harvest keep getting food to the people who need it most.
For more information, email tcvolunteer@2-harvest.org or call (509) 545-0787.
Habitat for Humanity is a wonderful program that provides housing to people that need a home. This is especially important in the cold winter months.
You don't have to have any construction skills to volunteer, but if you don't feel comfortable doing physical labor, there are all sorts of other ways to volunteer. Habitat for Humanity needs people to help with office work, bringing out lunch to workers, and much more. You can also volunteer your time at the Habitat Store, where money made from the items sold goes back into the program.
Habitat for Humanity is looking for donations of appliances, furniture, home décor, and more. You can call them at (509) 943-0222 to arrange a pickup of your donation items. Or if you prefer, you can donate to Habitat for Humanity directly.
For more information about Habitat for Humanity, call (509) 943-5555, or visit their office at 303 Wellsian Way in Richland between 9:00–4:00, Monday through Friday.