Fuse Podcast Studio: Part Three
Welcome to the third installment of our blog series on Fuse's podcast studio. So far, we have discussed the Tri-Citizens podcast that Kristi Shumway records here at Fuse. We also touched on the origins of the podcast studio, which was constructed thanks in large part to a grant from PNNL.
Kristi Shumway is one of the Fuse members who helped build the recording booth. She says, "Fuse got the grant and I jumped on the team to help install the booth. I also want to call out Justin Jones in particular for being a key part of that group. It definitely wouldn't be as great without his help."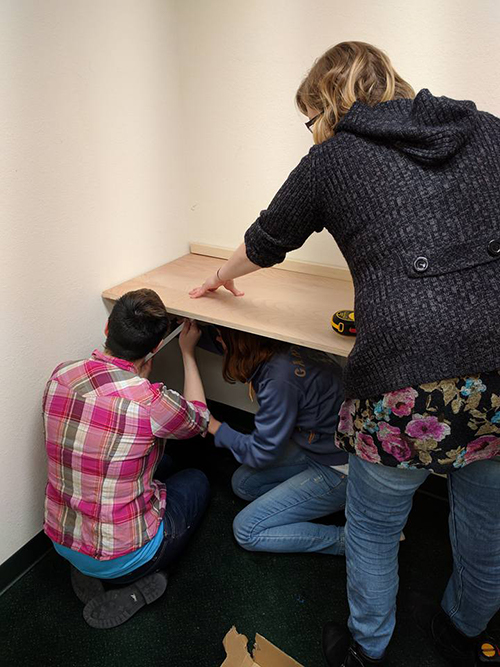 As well as being instrumental in building the studio, Justin Jones is responsible for a good portion of the podcast training at Fuse. Fuse's YouTube channel has published a podcasting series to further help new podcasters get started. There are currently videos covering tech, content creation, distribution, and marketing for any podcast you might want to create.
The podcast booth and editing studio at Fuse is equipped with two-inch acoustic wedge foam for soundproofing, a high-end audio interface, and a series of large diaphragm condenser microphones. The studio also offers multiple headphones and monitors to make sure any guests or interviewees you might have with you in the studio are comfortable. Fuse also uses multi-track recording, so that each individual voice can be adjusted later. This feature can be very important to creating a polished podcast, especially if one voice is much quieter than another in the initial recording.
If you plan to do any field recording, Fuse's podcast studio is equipped with a portable recording rig and a go-pro camera for you to use. You can always come back to the studio to do your mixing afterward, or do it at home using free software.
Justin Jones says that that is one of the greatest benefits of using free editing software like Garage Band for Mac or Audacity for Windows. The podcast studio at Fuse uses the same software, so you can work on your podcasts in the studio and continue editing at your desk or at home. The computer used in the studio can be booted as either a Mac or Windows machine, depending on your preference, and as part of your training, you will be shown how to use the editing software.
Tune in next week for the conclusion of our four-part series about Fuse's podcast studio.
Email info@fusespc.com, or call (509) 572-3820 to book the podcast studio at Fuse, or to schedule training.